It's time to rock old school this Friday with one of China's – and the capital's – most legendary rockers, Cui Jian, known in China as the "Godfather of Rock".
If you know the capital's relationship with rock n roll, you'll surely know Cui, who burst onto the scene in the 1980s with his catchy rock ballads, songs that touched Chinese youth at the time.
Otherwise, here is a bit of history*. Also known as Lao Cui, Cui Jian joined the Beijing Philharmonic Orchestra in 1981 as a classical trumpeter. It was here that he first heard Western rock, which led him to learn the guitar and start playing in public.
After forming a band with a few other members of the Philharmonic Orchestra in 1984, Cui rose to national fame in 1986, when, during a televised concert in Beijing, he took the stage with a song simply titled "Nothing To My Name" (see him sing this here).
It's this song, and the next album Rock N Roll on the long march – which at the time became the best-selling album in Chinese history – which made him a household name.
We are no strangers to Cui Jian ourselves. He's been a regular on the Beijing livehouse circuit for years, and we even held a gig with Cui in 2003.
The man is still rocking today, and while a live show probably would have sold out months ago, his next gig is thankfully happening online this Friday. To check it out, all you have to do is follow the official WeChat Channels account of Cui Jian (ID: 崔健) and reserve a seat!
Cui Jian's Don't Stop Being Wild concert will be held online via the musician's official WeChat on Friday, April 15 at 8 p.m. To reserve a spot, simply follow and look for the "reserve" feature (pictured below for reference).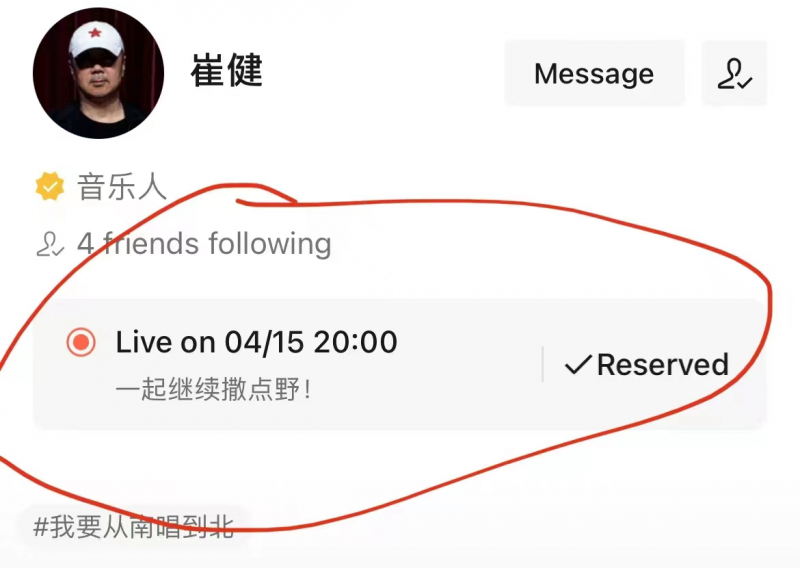 *For more on Cui Jian and the whole history of rock in China, see Jonathan Campbell's article Red Rock: the long and strange march of Chinese rock and roll (find it for Kindle here)
READ: Music, tattoos and local designers will unite at Beijing's upcoming SKIN Tattoo festival
Images: cdn.turner.com, amazon.com, Cui Jian, The Pekingese